Your solution to easy, user-friendly SEO that helps you get found on Google + free checklist download
7 min reading
---
Let me guess.
You have heard that your website should be optimized for search engines, but you have little to no idea how on earth you can do this. You have spend endless hours writing an amazing content for your audience, but you are not seeing results in Google and you're about one step away from throwing your laptop out the window.
Perhaps you think, you have to hire a tech specialist or burry your head in studding and optimizing for months?
Not at all! In fact with 8 simple steps, that I am going to show you below, you can get amazing results and hit that high ranking position.
To help you make the process even quicker, I've created a SEO checklist, which you can download for FREE, at the end of this article. After all you have all these other things to do, on your shoulders.
SEO optimization process
Getting your SEO right is an important step, when trying to increase your website and blog traffic. While covering all of SEO could be overwhelming (and would be a full course in itself), my goal with this post is to show you how to get started with some simple steps so you can make sure you are doing well with your SEO.
In this post I will cover:
"SEO is a great way to get more leads, book more clients, and make more money."
What is SEO?
In simple words, SEO means optimizing your website to be better found on search engines like Google, Bing, Yahoo, Ecosia.
When optimizing your website, your goal is to make it rank higher in the search results page for the targeted keywords, you have selected.
Let's take a look at how you can optimize your WordPress website step by step, grow your organic traffic, book more clients, and make more money!
---
Step #1: Keywords and Key phrases research.
SEO guide for beginners
Once you have a general idea of the topic you want to write about or the topic of your page content, first thing to do is think about the words and phrases that a user might search for to find a piece of your content. in other words these are the keywords and 'long tail keywords' for the page your are optimizing.
When people search for that phrase, they should find you. Google is smart and doesn't rely on the exact term, but will match with pages using similar phrases.
Find some good 'long tail keywords' you can compete for.

House of Lavenders
When there is a lot of competition for the main keywords you want to rank for, the long-tail keywords can really help you out. They are more specific and focus more on a niche. For example, ranking for "coach" would be quite difficult but ranking for "health coach for weight loss" can bring you to the top positions.
You can use free keyword research tools like:
The tool that I like and use is Ubersuggest. It is a freemium tool that is very easy to use. You can enter a keyword related to your blog post topic, that you think your audience will look for. The tool then shows you an overview of this keyword, other keywords ideas as well as content ideas from competitors in similar area. One great option is that can sort the results by SEO difficulty (SD) , which estimated how difficult is to get ranked for this keyword by the level of competition. The higher the number the more competitive the keyword is. Anything below 40 would be a good keyword to start with
Once you select the keywords and key-phrases you want to rank for, you gonna use them in your blog post content, h2 and h3 headings, image names, image alt attributes and few other places you gonna find further down the steps.
One thing to remember: The main key-phrase for your blog post needs to be included in the blog post title and the blog post URL.
You can find more information about long-tail-keywords here
---
Step #2: Optimize your title and use your headings right
SEO guide for beginners
The title that you gonna name your blog post needs to be unique and to catch attention. Choose a title that reads naturally and effectively communicates the topic of the page's content.
Use proper headings. One of the most frequent mistakes when styling your blog post and content is to use headings (h1, h2, h3, etc) to make the font bigger. This is a big no-no. Headings are how Google reads and understands your website's and blog post's structure. So using meaningful headings to indicate important topics, in a logical, hierarchical order is a quick and easy win to make Google happy. And also it makes it easier for users to navigate through your text, which is another win for you.
Let me pitch you for a second and share something with you.
Our Lavender themes for WordPress are strategically designed with SEO in mind. They include separate styling classes for the headings, which you can use for visual purposes. In this way, you can set the correct hierarchical order of the headings based on their level of importance.
Save your seat for the limited pre-launch sale here:
www.houseoflavenders.com/list
You can use a free tool like AnswerThePublic or similar one, to find out what are the most common searches based on what Google and Bing suggest and then use the information to create your title.
---
Step #3: Create SEO friendly URLs (Slugs)
SEO guide for beginners
Creating SEO-friendly URLs is often overlooked by most creatives new to SEO, but they are important to Google and other search machines.
So what exactly is a slug?
Slug is the text that appears after your domain name in the URL, as a name of your page or post.

Most of the time the slug is automatically generated based on how you name your page. But hey, you are getting a pro here, so you do not want that auto-generated slug name. Instead, you are going to fine-tune the slug, so it is more SEO friendly and brings you ahead of your competition. I'll show you an example in a bit.
Slugs play a key role in your website's SEO. They should help Google and your audience understand what the page is about. Adding the focus key-phrase ( we talked about in the first section ) and other relevant keywords to your slugs is a great way to boost your page's SEO. However, keep it simple! You don't want to stuff your slugs with keywords because it will only make your site look spammy. And besides that, studies show that shorter, simpler slugs rank better than long slugs.
Also leave out any words that do not bring value to your slug, like stop words, common and function words like "a", "the", "and" and similar one. Make sure it still makes sense, though.
domain-name.com/how-to-add-5000-subscribers-to-my-email-list-every-week
vs.
domain-name.com/email-subscribers-growth
---
Where you can modify your page 'slug'.
You can edit your page slug, very easily in WordPress. Just go to the page editor and change the URL slug field. See the red arrow in the image bellow: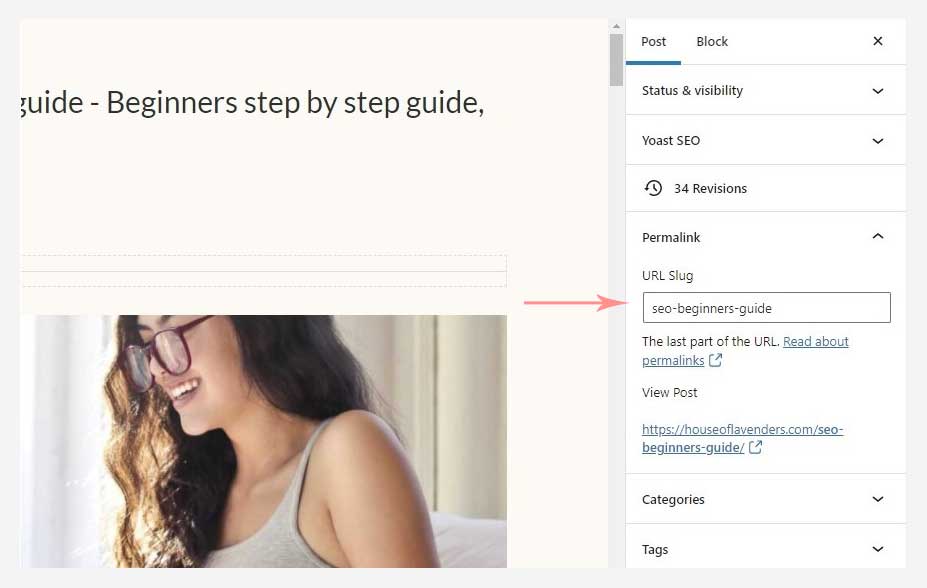 Keep your slugs short, simple and use the keywords that matter the most.

House of Lavenders
---
Step #4: Optimize your images
SEO guide for beginners
Use proper image names
Rename your images before uploading them, to reflect your topic and focus keyphrase. Use brief but descriptive filenames, which are not too long. Avoid using generic filenames like "image1.jpg", "pic.gif", "1.jpg"
Add an alt text for each image –
Provide a relevant alt description for your images. The "alt" attribute allows you to specify alternative text for the image if it cannot be displayed for some reason. Avoid stuffing keywords into alt text or copying and pasting entire sentences.
Optimize the size of your images.
The loading time of an image is really important for SEO and for user experience as well. A bigger image size means longer loading time for your page. You can reduce the size of your images manually, before uploading them to your website, or you can use tools and plugins to take care of the image optimization for you like ShortPixel, Optimole, Imagify.
---
Wanna keep in check
all the steps?
Here is my handy SEO checklist that I use, to help you never miss a thing.
---
Step #5: Add SEO Titles and Meta Descriptions
SEO guide for beginners
Updating your SEO titles and meta descriptions in WordPress website's pages is very easy, and best of all, it really helps your SEO.
SEO titles and meta descriptions are the titles and descriptions that show up in search engine results pages like Google.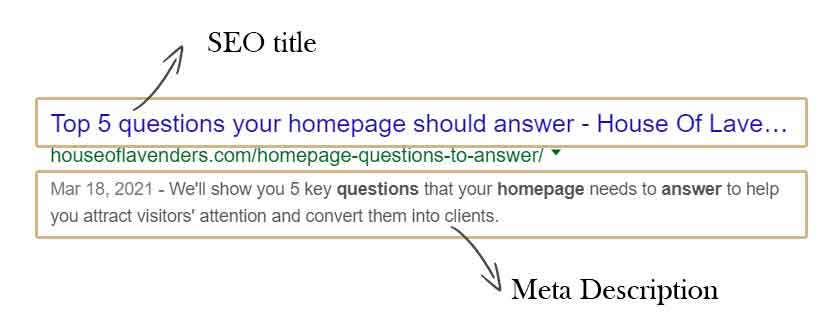 SEO titles
When creating your SEO titles use keywords or keyphrases that will tell Google what the page is about and at the same time make it interesting enough to catch your dream client's attention.
Keyword 1 (Primary) – Keyword 2 (Secondary and optional) – Brand Name
Google puts the most SEO weight on the beginning of the title, so the first part of any SEO title should be your primary keywords/keyphrases.
Adding your Company name at the end of every SEO title is highly recommended.
It's best to stick to the same format for each page. Keep the SEO titles short and make them unique for each page
Meta Descriptions
With Meta Descriptions, you can add a little more explanation about your page, usually 1-2 short sentences. They are very important as they allow you to organically add more keywords to the search listing and besides that, they are sometimes the determining factor whether someone clicks on your listing in Google or not!
As with SEO titles don't use the same description on more than one page
---
Step #6: Create relevant links in the text.
SEO guide for beginners
It is a good practice to add some links to your content, that link to other pages of your website (internal links ), or to additional sources of information, tools and resources relevant to your topic (external links). But do it right with the internal links – you want to link FROM high-authority web pages TO pages that need authority.
Always use descriptive links by including keywords. Instead of having "click here" links, try writing out what the destination link is about. "Click here" has no search engine value, whereas "learn the 5 questions your homepage needs to answer here" is rich with keywords and will improve your search engine rankings as well as the ranking of the page you are linking to. On top of that, it adds value to your readers.
---
Step #7: Optimize your content for your audience
SEO guide for beginners
When optimizing your website and blog, most people usually think of Google or other search engines, however, the first priority needs to be your audience.
People use Google to search for answers and find solutions to their problems. That's it.
So to be found on google, provide answers to questions, your online visitors are looking for. Credible, informative content is the best way to drive organic traffic straight to your website!
The next important part is to format your website page or blog post for easy reading and indexing. Here are a few ways to do this:
Break up your paragraphs for easy reading (2-3 sentences per paragraph) – Short sentences are much easier to scan, read, and intake.
Use H2's and H3's to break up post topics (where necessary) – Using headers creates an easy to read, easy to scan post. Not utilizing headers can negatively impact the readers experience on your website as well as your SEO rank.
Add optimized photos – Be sure they are optimized! Page speed is a ranking factor.
Your blog is one of the most powerful SEO tools that you have.

House of Lavenders
Make sure you provide valuable information that actually helps your readers and proves your expertise. You also want to style it so it looks good and is easy to read – use large enough font size, distinct headings and relevant and engaging images.
---
Step #8: Bonus – SEO checklist download
SEO guide for beginners
To make your life a bit more easier, I created a handy checklist with all the key steps we've discussed above + some bonus ones, which you can download below. It will be your best SEO friend and will help you never miss a thing when optimizing your blog posts and webpages.
---